Additionally, the market is expected to grow at a compound annual growth rate (CAGR) of 6.7% between 2018 and 2025.
Market analysis firm Grand View Research, which made the forecasts, says factors including such as an increasing number of dental practices, development of digital dentistry, and growing dental tourism can propel the market growth during the forecast period.
What's more, rising demand for cosmetic dentistry and dental implants due to increased focus on aesthetics is also expected to drive the market development in coming years.
Corporates and digital dentistry fuelling growth
A shift from individual practices to multi-unit corporate groups is also likely to fuel market growth over the coming years, as these groups operate efficient business models while aiming to offer high-quality patient care.
Moreover, technological advancements in digital dentistry such as digital radiography, CAD/CAM, caries diagnosis, computer-aided implant dentistry, and intraoral imaging, is also expected to boost the market growth.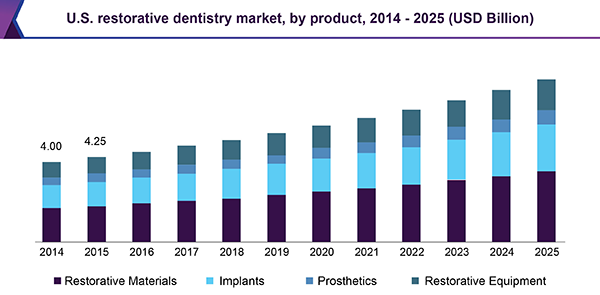 Global market
The global restorative dentistry market is segmented on the basis of product type, end-use, and region.
Concerning product type, the market is categorised into restorative materials, implants, prosthetics, and restorative equipment.
In 2016, restorative materials segment estimated for the largest market share and is expected to show high growth even during the forecast period.
This growth is attributed to the increasing use of these materials to fabricate tooth restorations.
The dental implants segment is also likely to have a significant development owing to high demand for enduring aesthetic restoration and increasing awareness about its advantages.